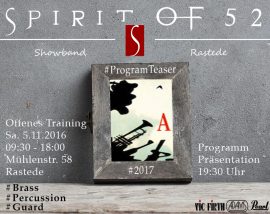 Offenes Training "Spirit of 52"
Samstag ist es schon wieder soweit! Das 2. offene Training!
Von 9:30 bis 18:00 hast DU die Möglichkeit mit uns zu trainieren und ein Teil von "Spirit of 52" zu werden.
Doch es wird nicht nur trainiert… am Abend werden wir in unserem frisch renovierten und vergrößerten Vereinsheim das Showthema für die Saison 2017 präsentieren.
Also melde dich noch schnell bei Björn Geveke an (bjoern.geveke@showbandrastede.de), um dir deinen Spot für die nächste Saison zu sicheren und ein Teil der Spirit-Familie zu werden.